Who we are
The Center is dedicated to reducing the number of children and adolescents that sustain brain and spinal cord injuries.
We are comprised of a number of programs that includes clinical management, research, outreach, training and education to prevent injuries that occur in daily life. Our center promotes safety currently through four major injury prevention programs; WalkSafe, BikeSafe, SkateSafe, and UConcussion. These programs span the journey from early childhood to teenage years - focusing on safety through the ages - and are developed with evidence-based methods and lessons.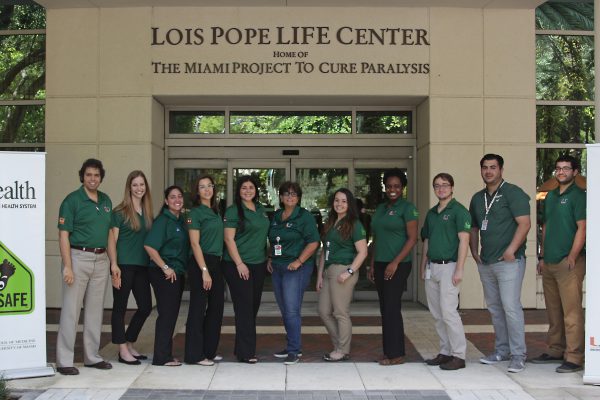 The programs:

WalkSafe teaches street and crosswalk safety to children from kindergarten through 5th grade. The programs works directly with public schools to teach our in-school safety curricula. Our programs also advocate for improved facilities and infrastructure, and work with local government, traffic planners, schools, and parks to help improve overall walking safety.

BikeSafe teaches bicycling safety and helmet fit to children from 6th through 8th grade. BikeSafe works directly with public schools and parks to teach our off-bike and on-bike safety curriculums. In addition, we advocate for improved bicycle facilities through partnerships with local government and traffic planners.


SkateSafe is the newest addition to the KiDZ Neuroscience Center, teaching safe skateboarding skills to young riders at outreach events.


UConcussion provides a comprehensive concussion management and treatment program for athletes from youth to the pros. We also implement and evaluate a countywide concussion management program that includes most high school athletes in Miami-Dade County.
The future:
Our team is constantly working to prevent injuries before they happen. Doing so requires educating, training and empowering youth, schools, and their communities. Expanding our program's reach is key to achieving our goal of reducing the number of injuries.
As we look to the future, our objectives include expanding our programs nationwide, actively evaluating and revising our program's content while measuring effectiveness, streamlining school implementation, and developing new programs to reach and educate children, families, and their communities through partnering agencies, media and the latest technology.
What can I do?
As a parent or a family member, you have the ability to share safety education with your children and with youths in your care.
Our programs span multiple ages and include guides and curricula that can be implemented at home or in school.
Donating to KiDZ
The KiDZ Neuroscience Center is a non-profit organization - our program activities are primarily grant-funded. However, growing with the rapid pace of technology can be difficult.
We have established a fundraising arm to ensure that the Center can sustain research projects, bring educational materials to current technology, and maintain the talented and diverse research team that is critical to our success.
To donate, click the link below and select KiDZ Neuroscience Center from the drop-down menu.