About Us:
The KiDZ Neuroscience Center is dedicated to reducing the number of children and adolescents that sustain brain and spinal cord injuries.
As part of the Miami Project to Cure Paralysis at the University of Miami, we've brought injury prevention to youths in South Florida since 2001, through our evidence-based WalkSafe, BikeSafe, SkateSafe, and Concussion Programs.
Through partnerships with Miami-Dade Public Schools, City of Miami Parks, the Miami Dolphins Foundation, and many other community organizations, we've been able to help children throughout Florida enjoy outdoor activities safely and healthy as possible.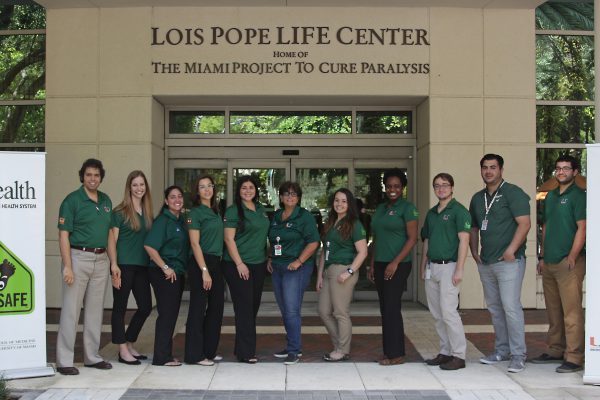 The programs:

WalkSafe teaches street and crosswalk safety to children from kindergarten through 5th grade. The programs works directly with public schools to teach our in-school safety curricula. Our programs also advocate for improved facilities and infrastructure, and work with local government, traffic planners, schools, and parks to help improve overall walking safety.

BikeSafe teaches bicycling safety and helmet fit to children from 6th through 8th grade. BikeSafe works directly with public schools and parks to teach our off-bike and on-bike safety curriculums. In addition, we advocate for improved bicycle facilities through partnerships with local government and traffic planners.


SkateSafe is the newest addition to the KiDZ Neuroscience Center, teaching safe skateboarding skills to young riders at outreach events.


UConcussion provides a comprehensive concussion management and treatment program for athletes from youth to the pros. We also implement and evaluate a countywide concussion management program that includes most high school athletes in Miami-Dade County.
How can I get these resources?
All of our educational resources for teachers, parents, and families are available online, directly from our program websites. Click the program of your choice below to get started.
Donating to KiDZ
The KiDZ Neuroscience Center has been evolving ever since we first started WalkSafe in 2001. Since then, we've had the opportunity to reach counties throughout the State of Florida with all of our programs.
But we need to do even better. We want to bring these life-saving safety initiatives to schools and organizations nationwide, as part of the mission to keep kids safe and support youth micromobility.
You can help the KiDZ Neuroscience Center realize this goal.