Safety Through the Ages: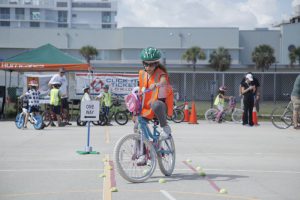 Learning never ends - that's why schools are an ideal place for children and young adults to learn life-long lessons about how to be safe as a pedestrian, bicycle rider, or young athlete. Almost all of us participate in at least one of these healthy, outdoor activities every day - from kindergarten right into adulthood.
Teaching crosswalk and bicycle safety in schools can spread these safety lessons to children throughout an entire city, county, or district - and PTA organizations can reinforce these lessons through parental support.
These efforts can save a life and reduce the number of injuries relating to these activities in an entire city, county, or district. For instance, our WalkSafe program - originally piloted in one of the largest counties in South Florida - reduced pediatric pedestrian injury rates by 72% over a 10-year time period.
Likewise, our countywide concussion management program, through evaluation, has able to track and monitor the recovery of high school student athletes that have sustained a concussion, returning them to play in a safe manner.
We encourage school systems throughout the country to utilize our educational resources. Our resources are free - all we ask in return is for individual schools to submit a simple, online completion report whenever our curricula have been used. This allows us to track the success of our programs.
How can my school get these resources?
All of our educational resources are available online, directly from our program websites. Click the program of your choice below to get started.
Please note that the curriculum materials for these programs have been evaluated only for the grades listed. The parental tip sheets and activity guides have no age limitations.