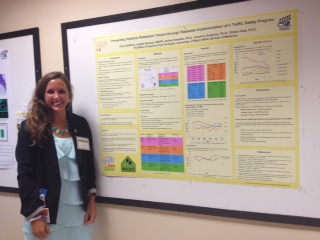 WalkSafe recently released the findings of a six-year study, measuring our effectiveness statewide.
Carly Stafford – a Colorado College student double majoring in Neuroscience and classics compiled the six-year data as a NIH Neurotrauma Summer Research Intern with us. Her summer research study sought to compare pediatric pedestrian injury and fatality rates over a six year span among four counties (Miami-Dade, Orange, Broward, and Pinellas) with differing levels of WalkSafe presence.
Carly's research found that as the number of students educated with the WalkSafe curriculum increased, rates of injury and fatality decreased in that county. Additionally, the counties which have implemented WalkSafe have also seen decreases in hospitalizations from pediatric pedestrian-motor vehicle accidents over the six years.
The culmination of her work was presented for the first time at University of Miami Miller School of Medicine on 8/6/2014. The poster, entitled, Preventing Pediatric Pedestrian Trauma through Statewide Implementation of a Traffic Safety Program, will be on display at the Lois Pope Life Center.
---