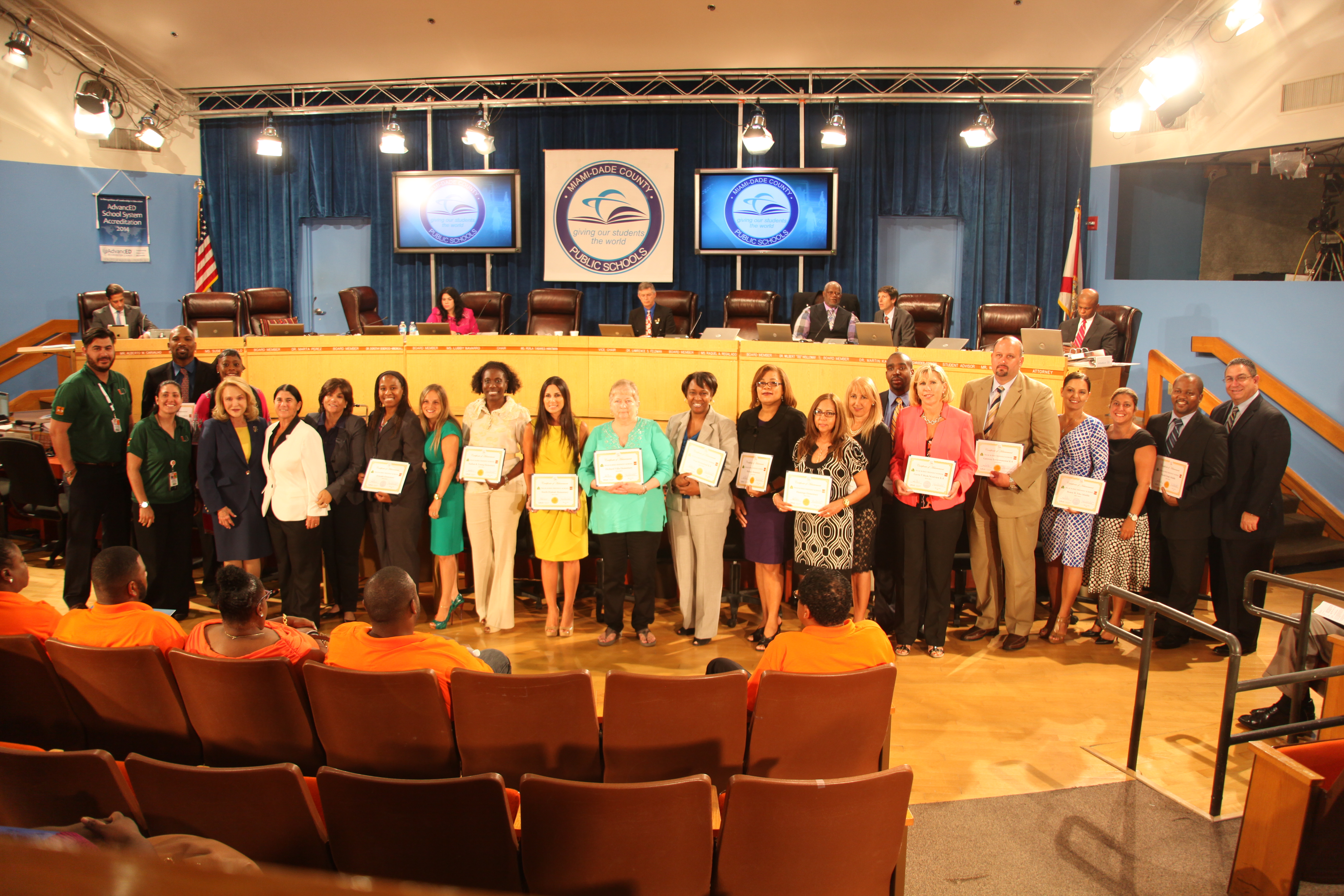 We at the KiDZ Neuroscience Center take great pride in our relationship with Miami-Dade County Public Schools and the Executive School Board.   On July 16th, 2015, the WalkSafe and BikeSafe programs were recognized for their involvement in the prevention of pedestrian and bicycle injuries in elementary and middle school-aged students.  The School Board also recognized UConcussion's efforts in the treatment and management of student-athlete concussions in high schools.
WalkSafe, BikeSafe, and the 5E School Assessment Tool:
The school board has supported and worked with us over the past two years in implementing a pilot study of our 5E School Assessment Tool (5-E SAT), which promotes pedestrian and bicycle friendliness of a school and its surrounding community. The assessment is based on the teaching principles of the 5E instructional Model: Education, Engineering, Encouragement, Enforcement, and Evaluation.
Eight WalkSafe and eight BikeSafe schools participated in this safety initiative during the 2014-2015 school year.  Based on their respective scores, a Platinum, Gold, Silver, or Bronze Certificate was awarded to each school, as listed below:
WalkSafe 5-E SAT Schools and Principals:

Dr. Robert B. Ingram Elementary, Dr. Cynthia Clay – Gold

Nathan B. Young Elementary, Dr. Tonya Dillard – Gold

North Hialeah Elementary, Yanelys Canales – Gold

Flamingo Elementary, Ileana Sotolongo – Gold

Orchard Villa Elementary, Jennifer O. Escandell (receiving award: Nancy Yates) – Gold

Holmes Elementary, Dr. Yvonne D. Perry (receiving award: Regina Wimberly) – Gold

Avocado Elementary, Jacqua J. Little – Platinum

West Homestead K-8 Center, Tammy S. Edouard – Gold

BikeSafe 5-E SAT Schools and Principals:

Allapattah Middle School, Bridget L. McKinney – Gold

Palm Springs Middle School, Leonard Torres – Gold

North Dade Middle School, Fabrice Laguerre – Gold

Henry H. Filer Middle School, Emirce Ladaga – Platinum

Carrie P. Meek/Westview K-8 Center, Tracey D. Crews – Platinum

Charles R. Drew K-8 Center, Tracy Lewis – Platinum

Campbell Drive K-8, Thelma Fornell – Gold

Gateway Environmental K-8, Lucas J. Delatorre – Gold
Principals from each school were present to receive their certificates. KiDZ Neuroscience Center Director, Dr. Gillian Hotz, and the managers of WalkSafe and BikeSafe were joined by Miami-Dade School Board Chair Ms. Perla Tabares Hantman and Dr. Jayne Greenberg, the Miami-Dade County Public Schools' Director of Physical Education and Health Literacy. Also on hand was David Henderson of the Miami-Dade County Metropolitan Planning Organization, who voiced support of the programs on behalf of the MPO.
The University of Miami WalkSafe and BikeSafe programs, in collaboration with the School District, plan to continue piloting the 5-E SAT with schools across Miami-Dade County over the next year to determine the effectiveness of increasing the walking and biking friendliness of schools.
We hope that more schools across the county, and potentially the country, will implement the Tool on an annual basis and receive recognition for their efforts to promote children walking and biking safely.
UConcussion's Countywide Concussion Care:
The school board also recognized the UConcussion program's injury prevention efforts within the school system, with a proclamation of thanks to the program for bringing the Countywide Concussion Care treatment and management protocol to the schools and athletes of Miami-Dade County Public Schools.
From left to right: Dr. Laurence B. Feldman – Miami-Dade County School Board Vice Chair; Mr. George A. Núñez – Administrative Director, Miami-Dade County Public Schools Schools, Division of Athletics; Ms. Cheryl A. Golden – Instructional Supervisor, Miami-Dade County Public Schools, Division of Athletics; Dr. Gillian A. Hotz – KiDZ Neuroscience Center, Director; Mr. Raymond C. Crittenden – KiDZ Neuroscience Center, SLICE Program Coordinator; Mr. Jonathan Sigel – KiDZ Neuroscience Center, UConcussion Program Coordinator; Dr. Jayne Greenberg – Miami-Dade County Public Schools, Director of Physical Education and Health Literacy
See more photos below:
1877
false
false
false
false
true
false
false
auto
false
ease-in-out
300
auto
false
0
true
false
%curr% of %total%
---