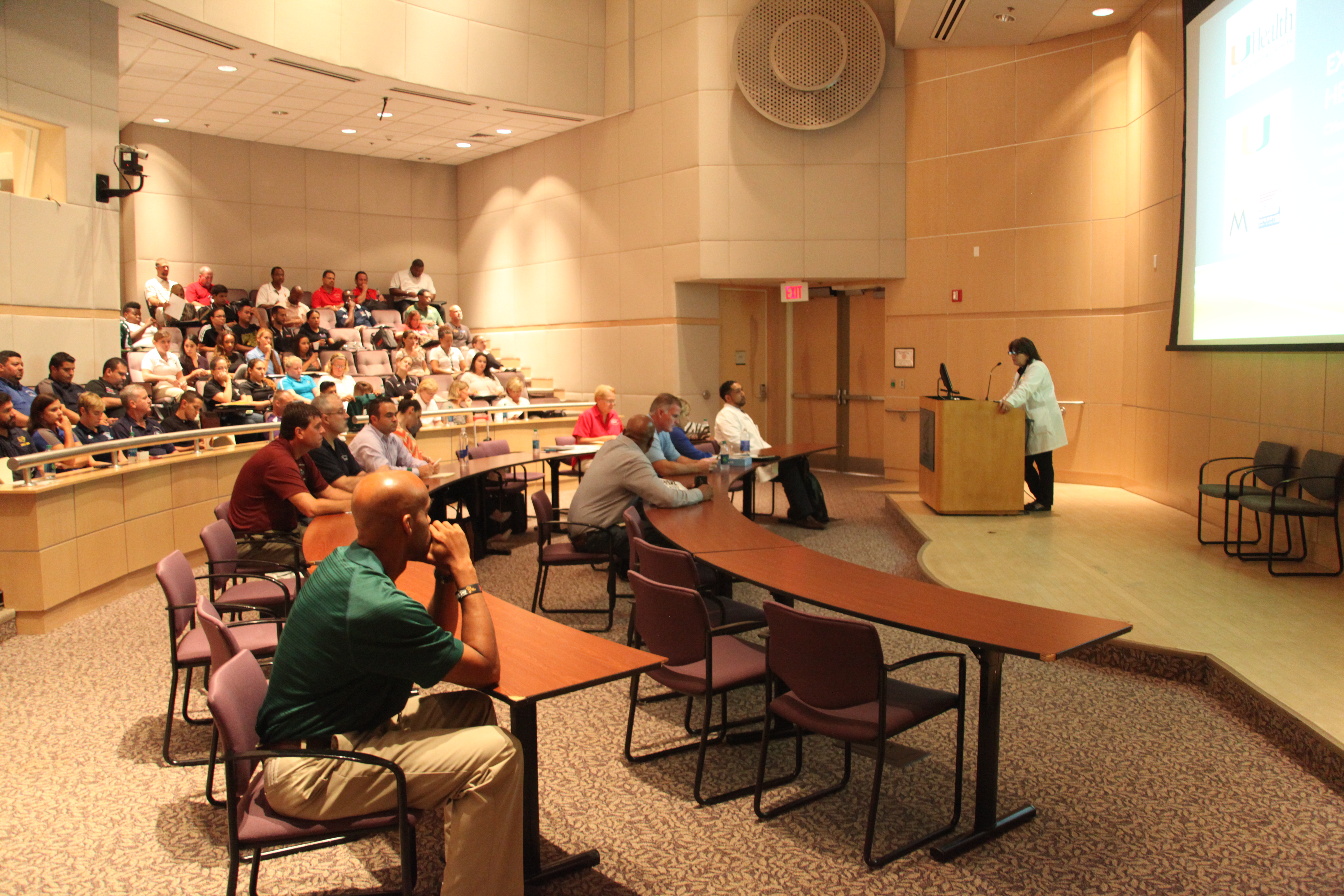 This past Thursday brought Miami-Dade County Public Schools' Certified Athletic Trainers and Athletic Directors to our annual Concussion Management Workshop, presented by the KiDZ Neuroscience Center's UConcussion program and UHealth Sports Medicine.
These workshops are yearly meetings by which UConcussion team and all Athletic Trainers and Directors from Miami-Dade County's public high schools  exchange feedback regarding concussion management in schools and discuss recent developments. Presentations were delivered by the Director of the KiDZ Neuroscience Center, Gillian A. Hotz, PhD and UConcussion Program, and Medical Director, Kester J. Nedd, DO; as well as Clifton L. Page, MD (Sports Medicine) , Michael E. Hoffer, M.D.(ENT) and former NFL player, Raymond C. Crittenden, all of the University of Miami Miller School of Medicine.
UConcussion wishes to extend a warm welcome to Dr. Hoffer as a new member of the UConcussion team. Dr. Hoffer has been studying mild traumatic brain injuries (mTBI) for over 15 years during his days in the Navy, and is currently leading the team in testing the NKI I-Portal® PAS goggle for concussion detection from an Under Armour/GE/NFL grant. He is board certified in Otolaryngology and Neurotology with expertise in vestibular assessment and treatment.
An update from Samantha Figueroa of the King-Devick concussion screening test, a rapid eye tracking test was also presented. Expanding on the portability of the King-Devick is now a tablet-based system on the sidelines for players participating in tests, while a mobile APP assists with keeping record of scores.
Additionally, UConcussion would like to extend many thanks to Miami-Dade County Director of Athletics, Cheryl Golden, for her support of UConcussion and the Countywide Concussion Care programs since their inception. This support has ensured the continued safety and proper management of concussed high school athletes in Miami-Dade County.
A special shout-out goes to Adidas for the polo shirts and Sports Authority for the gift bags. Thank you!
Photo gallery:
2401
none
none
true
true
true
Close
Next
Previous
The requested content cannot be loaded. Please try again later.
---