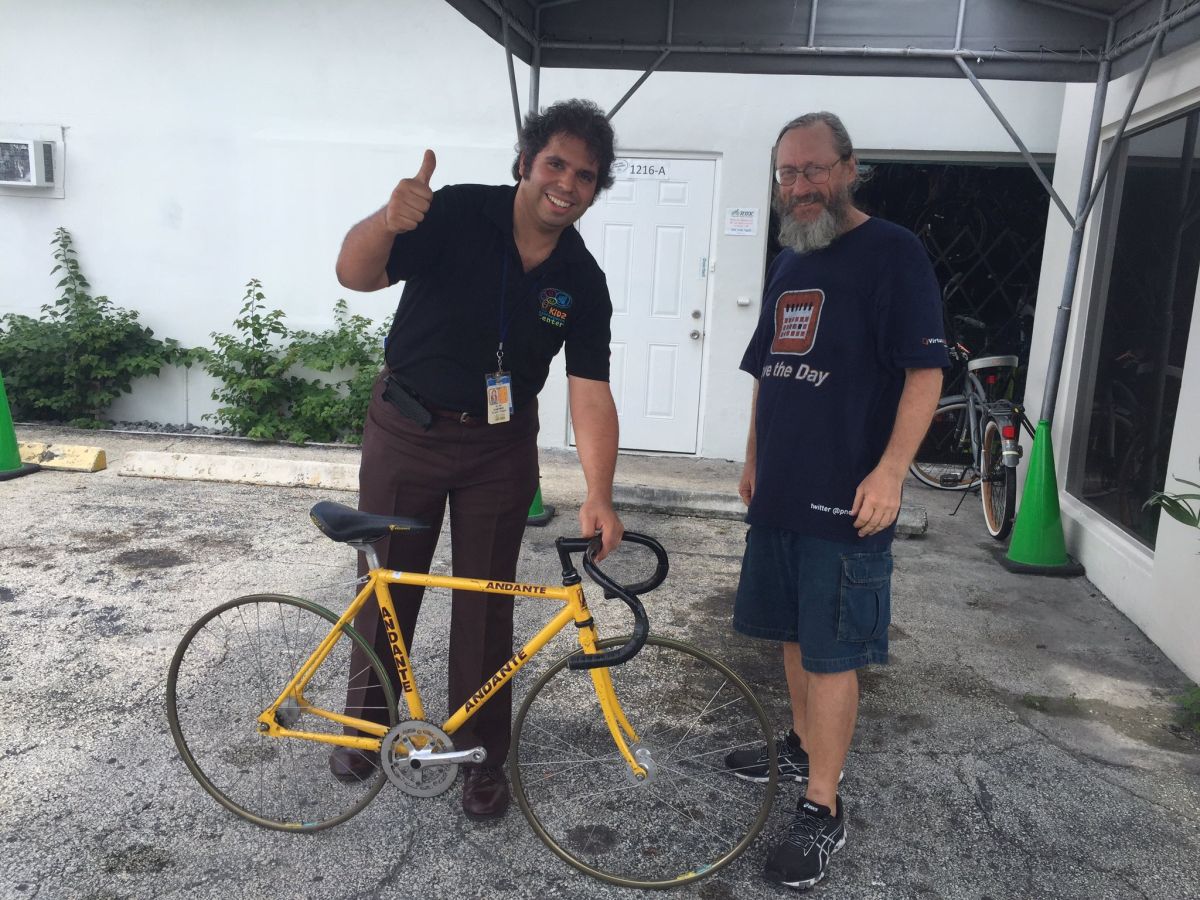 Our social marketing manager comes to us today with a story about his love for bicycles – and how it has led to three new members of the BikeSafe fleet!
Some bicycle enthusiasts geek out over bicycles as much as we love riding them. For me, the sight of an old steel road bicycle with thin frame tubing and ornate lugs (lugs are the joints on old bikes that connect the tubes at each junction) gets my heart rate up.
I also have a weakness for classic city bicycles – the kind that you see in any photo from Copenhagen, Utrecht, or Amsterdam. There is nothing quite as practical as a bike with a fully enclosed chaincase, not to mention an internally geared hub that can work perfectly fine (and not rust) after a rainstorm.
City bicycles are not far removed from road bicycles in their overall construction, and they are truly the Mary Poppins of bicycles – practically perfect in every way. (Related trivia: A heavily-modified Pashley Roadster Classic, nicknamed "Gertie," was used in Mary Poppins Returns).
At any rate, I am always scouting for unique bicycles and parts on my days off.
Yet, sometimes, the bicycles find me.
During an event a few months ago, I had the opportunity to meet Jeff from the Recyclable Bicycle Exchange in Ft. Lauderdale; a non-profit, co-op bike shop that has been the recipient of thousands of used bicycle donations. Jeff actively works with the community to award bicycles to kids throughout Broward County, and the shop is full of interesting bicycles from years past.
In other words, the type of shop I could get lost in for days, if there was no such thing as "Monday."
On a recent weekend, Jeff gave me the grand tour of RBX's warehouses, but nothing caught my attention quite as much* as when I looked up and saw 40 bright yellow track bicycles. Kids' track bicycles.
For those that are not aware, track bicycles are purpose-built racing bicycles designed for oval track circuits ("Velodromes") with banked curves. They have a single gear ratio and a fixed gear, which requires riders to keep pedaling at all times. For safety during races, track bikes do not have any type of brake that allows for a sudden stop; riders slow down by pushing against their momentum on the pedals as they spin.
As this suggests, track cycling is a sport that differs quite a bit from road cycling, with these special bikes built for the task. Though the fixed-gear fad a few years ago did increase the popularity of track bikes significantly, it is very unusual to see a child's track bike anywhere other than a velodrome.
Nevertheless, here they were.
It turns out they were originally built for the Brian Piccolo Park Velodrome as on-site rental bicycles (road bikes cannot be used on the track), and had since been retired. Half of them are small adult frames built with full-size 700C wheels, and the others were built with smaller 650C wheels into these tiny – and adorable – pint-sized track machines.
Jeff pointed out that the entire fleet had been donated to the Recyclable Bicycle Exchange a while ago, but very few people had showed any interest. Admittedly, here in the US, track cycling is not exactly fresh in the minds of parents and kids. (Speaking of which…why is that?)
That is when the gears of my mind started turning.
I knew that it would be great to add a few more bikes to the BikeSafe fleet, especially something lightweight and easy to handle – like these little track bikes – if set up just right. With caliper brakes, a freewheel gear in the back, and upright North Road handlebars, it would be possible. I checked with our team and then with Jeff.
We had the green light! BikeSafe would save three of the track bikes and give them a new home. Thank you, RBX!
With the good news, I rummaged through the 650C-sized bikes from the selection. Being handbuilt (and admittedly, slightly rushed builds from the looks of it), not all the bicycles were identical. The fork crown – the part of the fork where the tubes on either side of the wheel join together – had to be one designed for road use, not track use. The fleet had been built with both.
I found three frames that had been built with road crowns, pulled them out, and christened them the "BikeSafe Velo Yellows."
A lot remains to be done, and I have been documenting the build (yes, there will be a Part 2 in this series!) and will share some nerdy bike repair insights here on the BikeSafe blog as the conversion progresses.
In the meantime, we are open to any donations of parts that could help us complete the build (we've already received the donation of a freewheel – thank you very much to Scott Stulken of Cedar Rapids, Iowa, from BikeForums.net!)
We are looking for these parts to complete each bike:
• Kids-sized North Road handlebars (45mm wide or narrower) and stems (22.2mm quill w/25.4 clamp)
• 650C tires and tubes
• Road brake calipers with medium reach and non-linear brake levers
• One 26.8mm micro-adjust seatpost
• Folding pedals – helps with storage!
• SKS Chainboard chainguards – even those that might have been cut down (we will definitely cut them even shorter!)
Used parts are fine (the handlebars, in particular, may need to be sourced from old Schwinn children's bicycles), with exception to tires. We would love to be able to rebuild these bikes using re-used parts (where possible and safe) to keep bike bits out of the landfills.
Until the next blog entry, we leave you with these pictures. Enjoy!
Remember: Do not junk old bikes, donate them to your local co-op!
*Truth be told, the hand-built Chas Roberts frame – in my size – did have my absolute attention, but that is a story for another time!
---