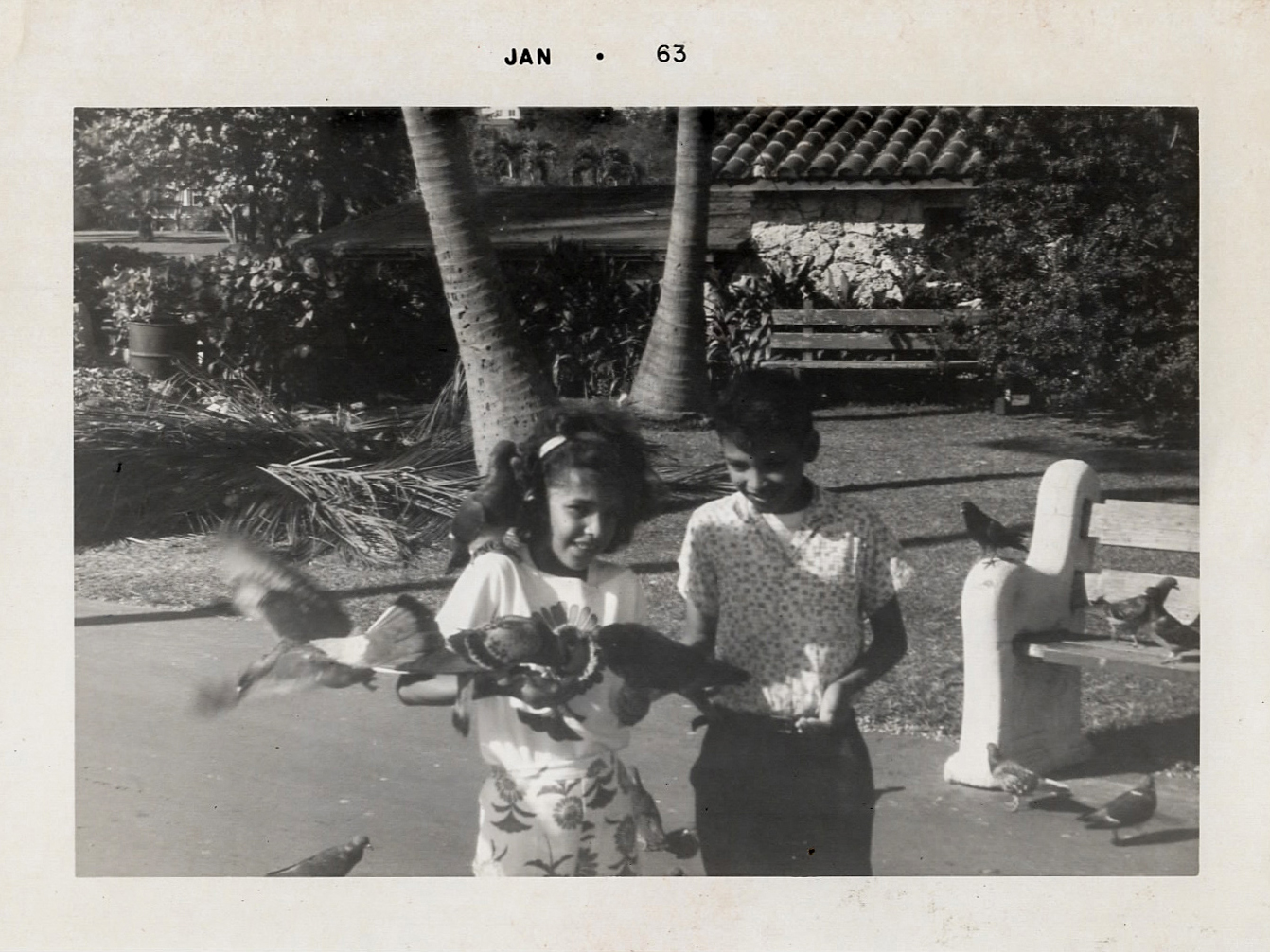 For the last four decades, walking to school has been declining – a fact often brought up by the National Safe Routes to School Partnership and the University of North Carolina's Pedestrian & Bicycle Information Center, just to mention a few. With the advent of the Internet, it is easy to bring up articles and data compiled from around the nation to see this information in graphs.
While the data provides many insights, rarely do we hear personal accounts of what it was like in the proverbial "back in the day," especially from a child's perspective – and has it really changed?
My own mother has often alluded to her own walk to school, as a young refugee child living in an early 1960's Downtown Miami. So what was it like?
I decided to ask.
"We were part of the "Golden Exiles" – some of the first refugees from Cuba when the revolution started. We fled just as it was raging outside our door….I was seven years old and my brother was eight. My father stayed behind.

Our arrival in Miami, as I recall, put us in a hotel room in downtown Miami, and shortly thereafter, we moved to a rooming house a few blocks from the West Flagler bridge – where the I-95 stands now.

At the time, Riverside Elementary on 12th Avenue was the closest school to the rooming house [Ed. note: The nearby Ada Merritt K-8 Center did not become part of Miami-Dade Schools until 2003]. My mother, now relegated to being the bread winner and simultaneous leader of her two pups, had to prepare us to navigate the trek from Downtown to the school. This was a 14 block walk each way, every school day, rain or shine.

Mom, who was always positive and strong, laid out "the rules," in no uncertain terms. They went something like this:

Stay together. My brother and I walked together to school and we did not split up.

Do not speak to anyone along the way, no matter how nice they appear. She always used to say that 'no one carries a sign on their forehead' as to who they really are. Collectively, we were to assume that everyone presented a potential danger. There was no talking to strangers on the sidewalk or anyone trying to communicate from a passing car.

At intersections, we were to – obviously – look before crossing and to make eye contact with drivers that were turning – to make sure they saw us before we crossed.

Mom led our very first walk as a test run. All walks thereafter were on our own because she had equally immediate concerns – that is, food on the table and a roof over our heads – however humble that was to be."
This all happened in 1961.
There were no guidelines, no tip sheets, no recommendation about being 10 years old before walking to school on one's own, and no advocacy like Safe Routes to School back then.
It was just them, the city, and common sense.
"When you're poor, your options are limited – so, as a parent, you have to prepare your child for the challenges – but also be able to assess that your kid trusts you and will listen and do what you say.

It [also] taught me that you can overcome your fears – I was scared every day of walking over the Flagler Bridge, with all those little openings in the grates and the water right below us. But I had no choice to. It gave me the courage and strength to know that I could do it, even though I was very scared.

That experience of having to deal with my fears has followed me in many trying experiences since. Face it, deal with it. No matter what life throws your way, you can endure – and even thrive – from facing the unknown.

But….not all was fear. Those long walks were also exciting. You'd get to see buildings and business bustling, with sweet smells coming from the bakery – Los Pinos Nuevos – every day that we passed by.

There was a sense of adventure and keen awareness of your surroundings, and to this day, on any walk I take, it still feels like an adventure. You see and experience so much more on a walk then you would in a car or any other vehicle that would propel you forward too fast to take it all in."
Wise words, especially as it relates to the automobile.
Perhaps the greatest takeaways from this story is that despite the fears of the bridge and the foreboding words about stranger danger, walking to school hasn't drastically changed. What did change was the impact walking has had on her life:
"…[I]f I were to look at the route we took today, the Flagler trek hasn't changed much. [Ed. note: This is one of the few streets in Miami that still has a fairly wide sidewalk east of West 12th Avenue]. I think my experiences of walking to school and taking the bus to work in my youth made me a lot more receptive to public transportation.

I was on foot for so much of my youth that I don't mind walking or taking the bus….[Walking] opens up other avenues of thinking that aren't there if your life is your butt in a car."
---