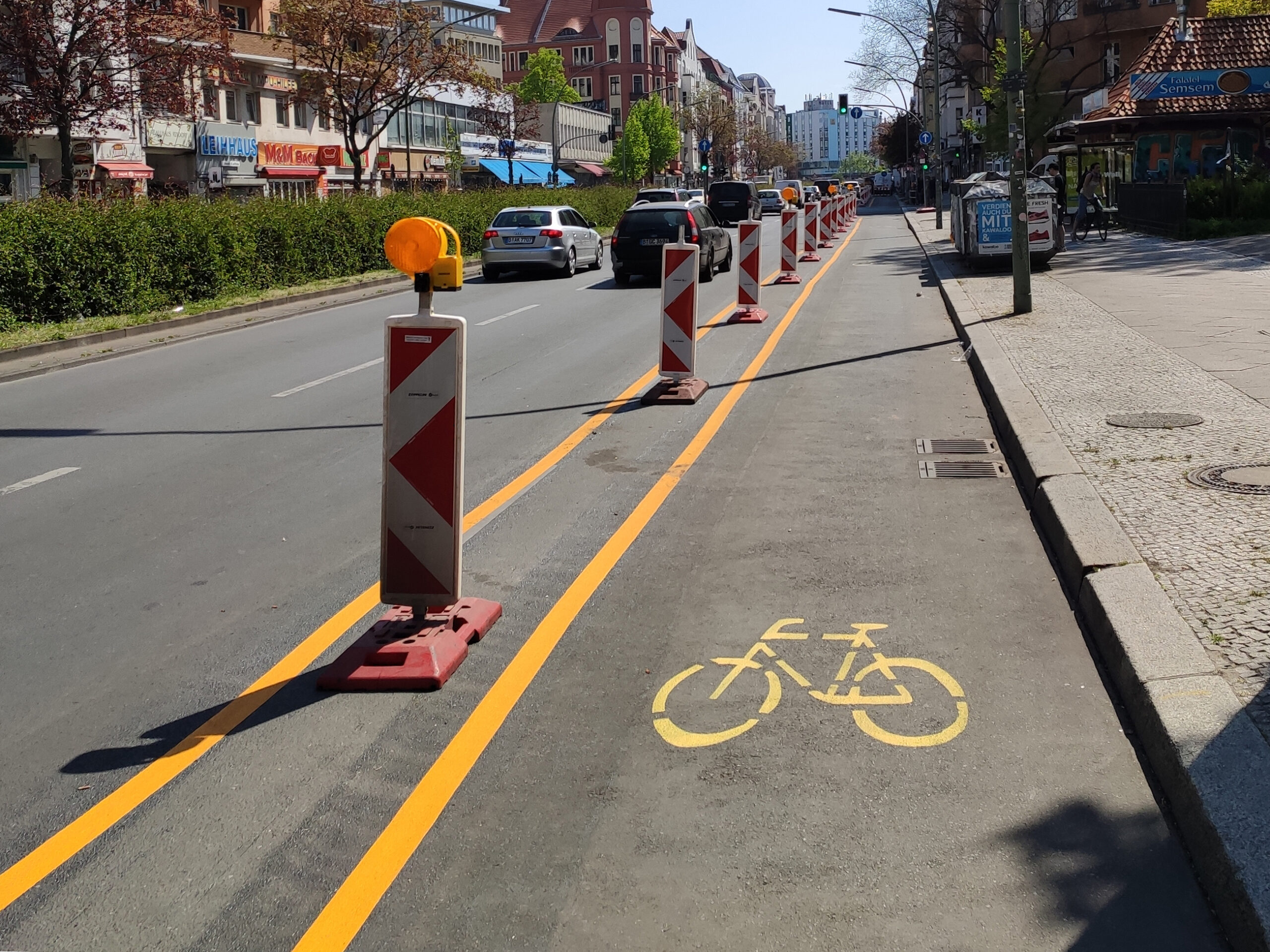 Never mind toilet paper, COVID-19 has shown us that people haven't forgotten about the humble bicycle. They have become the latest elusive product for commuting, recreation, and even business (deliveries, anyone?). Bike shops are out of stock, repairs are unstoppable, and according to Miami's Coral Way Bicycle Shop, bike parts supplier J&B Importers sold 34,500 tubes in three days.
Sign on the back door of the local bike shop. pic.twitter.com/BM0k1gIEea

— Bike Share Museum (@bikesharemuseum) June 6, 2020
But will our cities – especially when they've professed to be taking action to prevent climate change – understand that the future of the bicycle, as a mode of transportation, depends entirely on them?
The reality is that the continued use of bicycles can only survive in cities where the pop-up bicycle infrastructure created during the early weeks of the pandemic is sustained and formalized into a city's permanent bike network.
Conversely, in cities where any evidence of a "connected network" exists only in a bicycle master plan gathering dust for a decade, the current bike boom we're witnessing is not going to survive outside of neighborhoods with minimal traffic or dedicated bike trails that people drive to.
Allow us to explain:
For those who have spent their lives fighting for their rights on two wheels, it is easy to forget that the average person is risk-averse. Outside of the circle of bicycle advocates, vehicular cycling is seen as borderline lunacy. Asking someone to hop on a bicycle and share the same lane with drivers whizzing by in their cars is met with the inevitable reply:
"Are you crazy?"
Perhaps this is hard for some to accept, but this is how many people react, especially in cities where dedicated, safe places to ride a bicycle are non-existent or barely adequate. Remember, you're not preaching to the choir, you're preaching to the car.
Now couple that with the benefits and drawbacks that someone might infer from the proverbial rally cry to "ditch the car." However bad or selfish the following automobile-related perks may be in a cramped city, let's consider them nonetheless:
Air conditioning. Or a heater, for those of you who (still) get cold weather here on Earth.
The feeling of isolation inside a comfortable cabin. Anti-social, but cozy.
Your infotainment system, with enough quirks and features to be endorsed by Doug DeMuro himself. We prefer to call this iPad glued to the dashboard a major contributor to distracted driving, but you get the point.
A belief – right or wrong – that your specific trip is much faster by car.
But in a city where a connected, safe bicycle network exists, one stands to gain the following by "ditching the car:"
A relaxing bicycle ride to your destination. Or a quick one. In many ways, it's up to you. A protected bike lane, built correctly, can handle bike traffic of many speeds.
Safe, convenient bicycle routes that get you to your destination efficiently, avoiding the gridlock of auto traffic.
The additional emotional benefit of not being stressed from gridlock.
The physiological benefits to the body and mind gained through the aerobic activity.
Cornering a small intersection on a bike is fun. It's like flying, but you're only a foot off the ground.
If you have a pedal-assist e-bike, the ride may be exceptionally effortless – and on a lower assist setting, may still give you a fair bit of exercise.
Kids love riding in cargo bikes.
That's not a bad combination of benefits, but what happens when someone "ditches the car" in a city where connected, safe bicycle networks do not exist?
A route where bicycle lanes – if you are lucky enough to find them – disappear and reappear at will, putting you in harm's way on multiple occasions.
A harrowing time "sharing the road" with many drivers who could care less about whatever law grants you to use the entire lane.
Stress from shouting back at drivers who endanger your safety.
Feeling like a jerk when pedestrians yell at you for riding on the sidewalk – as you try to avoid riding with drivers on the nastiest of streets.
Harassment from law enforcement who forces you to ride your bike in the most dangerous place possible – which you were avoiding for your own safety. Or for riding while black.
Pain from an uncomfortable bicycle unfit for the task, because Dutch and English-type commuter bicycles aren't frequently sold in US bike shops.
Arriving to your destination drenched from trying to accelerate quickly at the lights to avoid being run over by impatient motorists.
An exclusionary and/or expensive bike permit system on your bus, rail, or transit connection.
A lack of safe, secure, or any bike parking at your destination.
An exclusionary and/or expensive bike parking permit system at your destination.
Terrible lighting and isolated areas on whatever bike paths do exist on your way home. Case in point, the Miami M-Path is bordered by a concrete divider wall and is pitch black at night.
Too many cities are some combination of the latter, as PeopleForBikes' latest 2020 Places for Bikes City Ratings indicate.
So what is the solution?
Simple: The experience on a bicycle must provide an equal or greater value over the automobile before a large number of people will consider giving the former a try.
In cities where temporary lanes have been erected, these lanes are now serving hundreds of riders daily. To sustain this and prevent current riders from returning to their automobiles for trips that don't require one, these lanes need to become permanent and protected. Additionally, these cities need to eliminate unreasonable citations and profiling of riders.
On the other hand, if your city feels that all it needs to do is create a smart encouragement campaign about riding to work or ditching the car – minus any safe bike network – it's making a big mistake. Pandemic or no pandemic, this approach alone jeopardizes a city's chance at gaining public support for safer infrastructure.
Think about it: A newcomer tries riding to work, discovers how unfriendly their city currently is for people on bicycles, and instead of becoming another voice for safer streets – they wind up dismissing bicycle riding as impractical for commuting.
This has a domino effect against the creation of safe infrastructure: More often than not, you will hear safety used as an argument to shut down the creation of protected bike lanes and discredit bicycle advocates at public meetings. It only takes five simple words:
"It's not safe to ride."
Surprise: This is the same argument for bicycle networks. It is also the crux – and crutch – of every bicycle encouragement campaign in a city unfriendly for cycling.
Critically though, this argument against bicycle infrastructure out of misplaced safety fears has become a problem. Cities create and study bicycle plans, only to allow a small number of the loudest NIMBYs to put an end to the potential.
But COVID has proven wrong every naysayer shouting "we're not Amsterdam." In the midst of this pandemic, these temporary bike lanes have shown that there's a possibility to actually give people an option for active living, happy transportation, and achieve positive climate action all at once.
Safe bicycle infrastructure is doable, and the oft-quoted "War on Cars" is no more than a request for an equitable distribution of street space – where, yes, even the car has a place amongst bicycle riders.
---